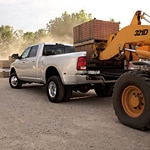 The exterior of the Ram 3500 has a number of features that you can enjoy and appreciate such as the LED headlamps it has that not only look good on the vehicle itself but also provide additional light when traveling down those dark roads. People tend to appreciate this as it is the only way that they can have full confidence that they can see it all.
The tailgate is made to come down easily so that you may load up whatever you need to haul around town with you. There is even a button on the key fob that allows you to tap it twice to get the tailgate to drop for you so you can load it up.
This Ram 3500 is known as being one of the longest-lasting heavy-duty trucks sold in America. You can enjoy the work that it gets done for you and knowing that it will last you quite some time.