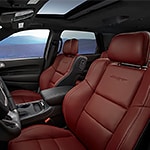 When you need to carry seven passengers and cargo all over Bridgton, ME and beyond, you need a full-size SUV that can do it in style. That is what you get with the Dodge Durango. This is one of the more popular vehicles in its class for a reason. You will find that there is a lot on the interior to be excited about.
You will be more comfortable than ever before with the available Nappa leather seating. This will really put in the lap of luxury. It looks and feels great, while the color will match well with the interior design.
You will also get the benefit of a tri-zone climate control system. This means that each section of the SUV will have its own controls. No longer will you have to try to appease everyone at one. This is yet another way that the Dodge Durango makes your ride more enjoyable throughout.